Sell with Southern Homes Group
Get proven results and streamlined service from start to finish. Scroll down to learn more about how we can get you results with our record-setting sales strategies.
Your real estate experts!
Since our founding in 2003, Southern Homes Group has helped over 100 Georgia residents effortlessly navigate to the closing table.
With us, you're getting superior, experience, marketing, and analytical skills, all bundled into a super friendly agent who's thinking about you right from the moment they wake up!
Dedicated to an honest and friendly service
In any relationship communication is key and is the cornerstone on how we deliver a next level service. We are dedicated to providing you the attention you deserve. When you work with us, we are available at any time through text, phone or email. To us, you are more than just a client – you're a partner in the process.
Listing alerts
We help you find the perfect home by taking your preferred price, aesthetics, location, lifestyle, nearby amenities, etc ...
Home inspections
Here at Southern Homes Group, we understand how important it is to use the right home inspector.
Vendor network
We work with an extensive network of vendors and contractors that offer us special deals for home repairs, furnishing, painting, plumbing, electrical work
Expert advice
With over 25 years of experience in Georgia, we've helped over number of clients meet their home ownership goals.
Negotiating power
We will help you negotiate and secure the best possible price and terms for you ...
Property websites
Each and every one of our listings gets its own dedicated website using our listing tool.
Professional photos
It's absolutely essential that your home looks stunning, and attractive. We use professional photography for each and every listing.
Professional videos
We offer professional video tours and listings. This allows anyone to tour the property on demand, no matter where they are located.
Virtual tours
Our 3d virtual tours, powered by (3d tour software here) allows anyone to tour your property on demand, and take as long as they want to take in your home.
Home staging
Through our home staging services, we make sure that your home looks absolutely stunning, looks great on all of our marketing materials, and serves as the "wow factor".
Learn How To Sell Like A Pro!
If you're looking to sell your home, this checklist gives you an overview of the process and tips for how to prepare!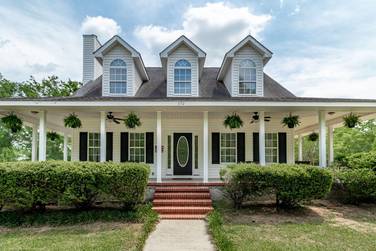 How to upsize into a bigger home
Free Seller's Guide
Comprehensive Real Estate
Seller's Guide
"We worked with Lauren Whitehead and her team for our relocation home sale. My husband and I were first- time sellers and out-of-state, as well; she couldn't have made the process more transparent or stress-free. Very trustworthy and knowledgeable in her advising on the market and efforts to provide
…
the greatest return on investment for our sale. Few to no surprises during the entire process. Highly recommend working with Lauren and her team!"
Featured Listings
Hand Picked Georgia Properties You Will Love.